What is Tile Flooring: The Expert's Guide
Are you planning to renovate and restyle your home? Then maybe you're thinking about starting with new tile flooring. If that's the case, we've got your back.

Tile flooring has long been a popular choice for bathrooms and kitchens. It's hard to beat when it comes to a classic and sleek appearance. While finding the right tile can be difficult at first, with some research, you can find the flooring option that suits you best.

Choosing the right style, size, hardness, and shape is part of the process. When it all falls into place, tile gives you a beautiful, easy-to-maintain, and long-lasting floor.
­
Tile Flooring
Tile flooring is a broad term for any tough flooring cut into tiles, with the gaps between them filled with grout. Tile flooring is frequently made of stone, ceramic, or porcelain (glazed ceramic). Stone tiles are the most natural product with inherent beauty and their strength depends on the type of stone used. Porcelain tiles are generally denser and more durable than non-ceramic tiles, and both are available in a wide range of colors and patterns.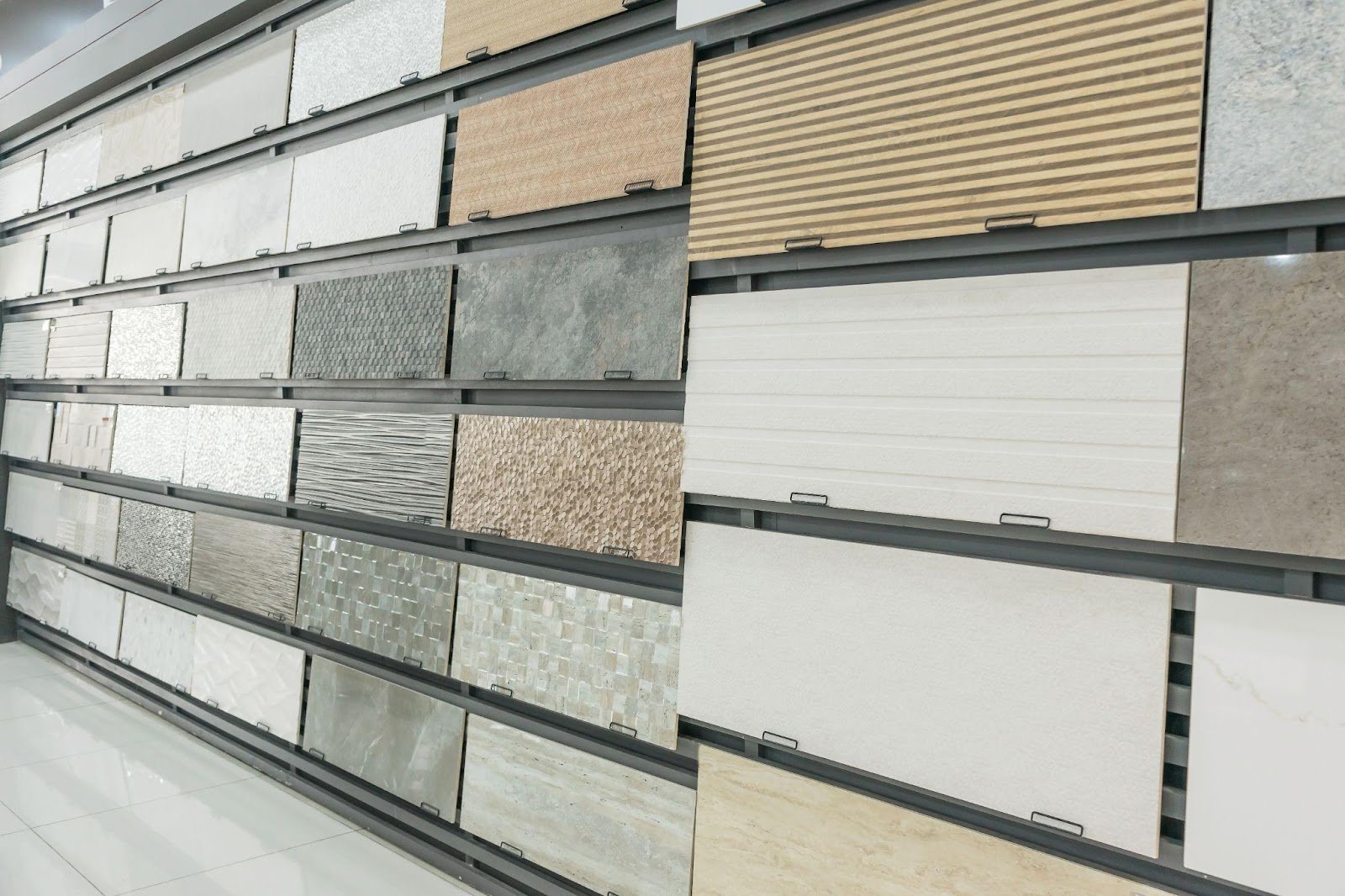 Now you know what tile flooring is, let's look at types of tile flooring. As mentioned above, tile flooring can be made of various materials, including stone, clay, metal, quartz, and terrazzo. Each category of tile flooring has distinct characteristics. Natural stone and ceramic tile flooring are the two most common types. If you've never looked into tiles before, you may be surprised at how many different types there are. Let's look at each of them.
1. Ceramic Flooring
Ceramics is among the most popular types of tile flooring found in homes because of its versatility. It is made from clay that is chopped down, prepared, and then molded. Ceramic tile is ideal for any room in the house and can be used as a backsplash tile, bathroom tile, and shower floor tile.

It's simple to install and clean, and is available in dozens of styles to suit any taste. In addition, ceramic is an excellent option if you're planning to remodel on a budget. The two most prominent types of ceramic tiles are glazed and unglazed. Unglazed ceramic tiles have an artistic, rustic appearance, whereas glazed ceramic tiles offer more protection for a longer-lasting floor.
­
2. Glass Tiles
Glass tiles add a clean, minimalistic look to any project. In addition, glass has high stain-resistance properties, making it a good fit for people with children. Red wine and other acidic foods such as vinegar and lemon are easily removed without leaving any permanent stains.

A potential disadvantage of glass tiles is that they chip quite easily along the edges. As a result, glass is not suitable for high-traffic areas such as kitchen and bathroom floors. Instead, you can use it in areas such as countertops and backsplashes, or around a fireplace.


3. Limestone Tile
One example of natural stone tiles is limestone tiles. Limestone is the way to go if you want a classic look crammed with natural tones, variations, and shades. It is soft and durable, making it simple to shape and trim for different patterns and placements.

However, when purchasing limestone tiles, it is essential to remember that they are porous. The tiles must be appropriately sealed to ensure they last a long time; otherwise, they will crack, scratch and stain easily. Limestone's rich appearance and wide range of colors and sizes make it an excellent choice for any outdoor space. However, it might get challenging to clean these tiles. Therefore, you must use neutral pH cleaners and avoid vinegar-based and citrus products.


4. Porcelain Tile Flooring
Porcelain tile flooring is considered superior to ceramic tiles. It is an all-purpose tile available in various colors, designs, and styles, allowing for flexibility when designing a space. The appeal of porcelain tiles stems from their ability to mimic virtually any surface from brick to natural stone or wood and the fact that they require little to no maintenance.

Porcelain can be used almost anywhere: in the kitchen, bathroom, backsplash, or high-traffic areas. It can also be used outside because it does not crack or fade.


­5. Subway Tiles
You may be wondering why subway tiles are called subway tiles. It is because they first appeared in the New York subway stations. They were invented in 1904 in pursuit of a decor that is both low-maintenance and vibrant in color, and unique in the installation pattern, especially in heavy traffic areas. Subway tiles are available in many of the tile materials used and is differentiated by the rectangular shape.




---
­
What is The Best Way to Clean Tile Floors?
Now that you have a better understanding of the tile options for your home, it's time to get familiar with different ways to clean tile floors. Though most tiles like ceramic and porcelain are incredibly durable, certain types require special care.
How to Clean Ceramic And Porcelain Tile
With a few simple cleaning tips, you can maintain the look of your ceramic or porcelain tiles.
To clean porcelain and ceramic tile, follow these easy steps:
Vacuum or sweep your tile flooring regularly to keep them from becoming dull
The best mop for tile floors is a chamois mop instead of a regular sponge mop as it does not leave marks on your floor
While mopping, make sure that you change the water frequently
At last, do not let your glazed tiles air-dry as it will leave water spots. Instead, dry them immediately with a clean, lint-free cloth

How to Clean Stone Tile
You must be careful when cleaning stone tiles. Traditional cleaners contain chemicals that can damage the texture of your stone tiles. Therefore, use cleaners specifically designed for natural stone.
Avoid using acidic cleaners (including ones with citrus or vinegar)
Avoid using brushes or mops with scouring powders and stiff bristles that may cause scratches.


Pros of Tile Flooring
Virtually endless design options
Tiles are extremely durable and long-lasting
Most tiles are water-resistant. If not, they can easily be sealed
Tile flooring is also easy to maintain

Cons of Tile Flooring
Tile, especially natural stone, can be expensive compared to other types of flooring
Tile is not DIY-friendly and professional installation can be expensive
Tile floors are cold in the winter
Grout between tiles must be deliberately maintained, particularly in high-traffic areas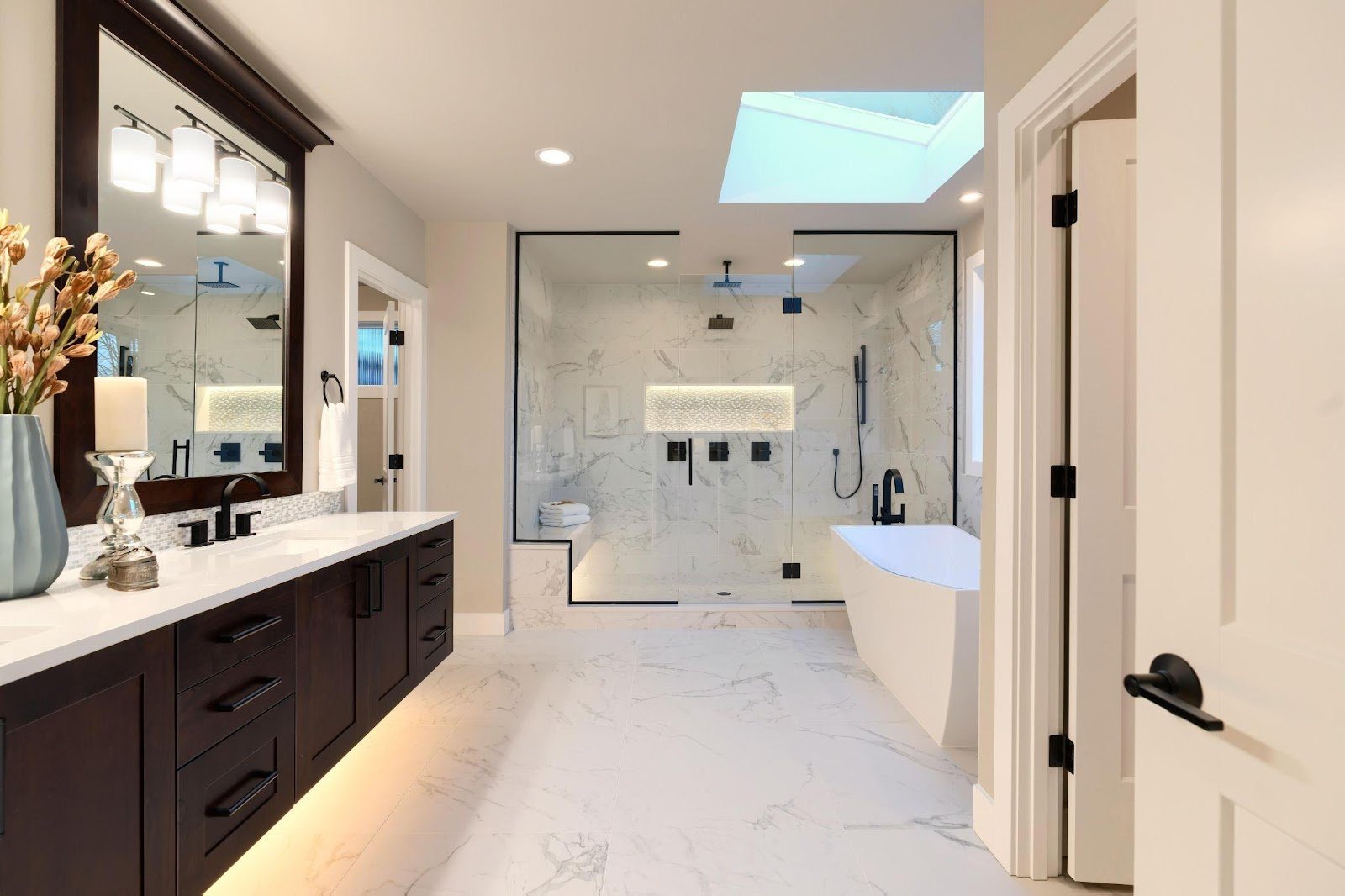 Choosing the right tile for your home that complements your decor can be a difficult process. But don't worry, because Carpet Spectrum can guide you through it effortlessly. Their website features an extensive tile selection and a visualizer that will show you how your home will look after the renovation. What are you waiting for? Connect with our professionals and schedule your consultation today.