Blog > Can hardwood flooring go in my kitchen?
Can hardwood flooring go in my kitchen?
Sunday, April 10, 2022, 4:11 PM
---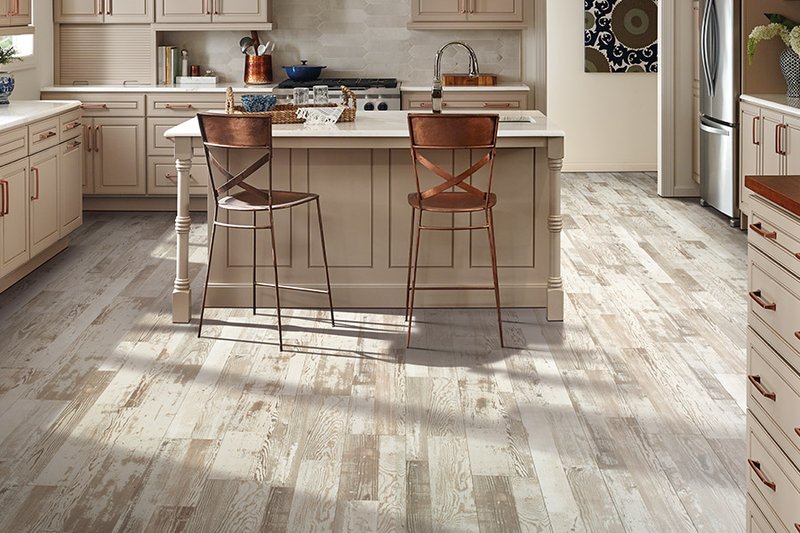 You can install wood flooring in any kitchen, but you may need to choose specific options. For example, you may have heard that water and wood don't mix.

The truth is particular hardwood floors offer an excellent kitchen experience. And here are some facts to help you make a great decision for yours.
What kind of hardwood?
Both solid and engineered materials work well in kitchen settings. But solid wood is not a viable option for every kitchen.

Be sure to choose species types and finishes that can stand up to the things that happen in a kitchen. Consider the dangers of dampness, dropped cookware, and other wood flooring before finalizing your choice.

Also, be aware of your kitchen's placement when choosing a wood material. For example, if your kitchen opens up to the outside, be mindful of the dampness protection of your floors.
Debunking myths about wood kitchen flooring
Some say that wood floors are not water-resistant enough for spills and dampness. The truth is that moisture exposure can reach a limit, causing wood floor damage.

But there's also truth to using extensive measures to keep your wood floors safer in the kitchen. For example, rugs, mats, and runners placed on engineered or solid hardwood flooring can catch spills for excellent protection.

You might hear that hardwood doesn't stand up well to traffic. But the truth is that an excellent species choice can be a great addition to your busiest areas.
See our wood flooring options today
You'll find excellent materials and services when you visit Carpet Spectrum Inc. We care about your floors, and we'll make sure you have just what you need for your home.

When you need great floors, visit our hardwood flooring company in Lomita or Hermosa Beach, CA. From there, we cater to the entire Southern California area, so be sure to stop by today.